Energy Efficiency – Australia's move to Emission Reduction

Energy efficiency (also efficient energy use) has the target to reduce the amount of energy required to provide products and services to the population. Improvements in energy efficiency are mostly achieved by adopting a more efficient technology and production process. At the same time the correct management of activities in the workplace as well as at home can save energy and resources. Furthermore the production of parts of the used energy by renewable means can reduce the use of conventionally produced energy and therefore lead to increased efficiency of its use.
A simple example covering all 3 aspects: Insulating a home well allows a building to use less heating and cooling (=energy) to achieve and maintain a comfortable temperature. Installing fluorescent lights or natural skylights reduces the amount of energy required to attain the same level of illumination, compared with using traditional light bulbs. Reducing the hours the lighting, heating/ cooling further reduces energy consumption – e.g. lights switched off during the day, reduction of interior temperature by 1-2 degrees in winter. The employment of solar photovoltaic energy is currently the most cost effective way to make the energy you consume clean and therefore enable your children to live in a similarly functioning world as you were able to.
There are various motivations to improve energy efficiency. Reducing energy use, reduces energy costs and results in a financial cost saving to consumers. The energy savings offset any additional costs of implementing an energy efficient technology. At the same time, reducing energy use is also the solution to the problem of reducing emissions. Scientific estimations show that improved energy efficiency in buildings, industrial processes and transportation could reduce the world's energy needs by one third in the coming decade. This helps control global emissions of greenhouse gases. Heating and cooling of living and work space constitutes almost half of a building's energy consumption. The employment of a solar system at current electricity retail prices amortises very fast, so by combining energy efficient products and building components with clean energy production converts your home in a clean cost saving asset.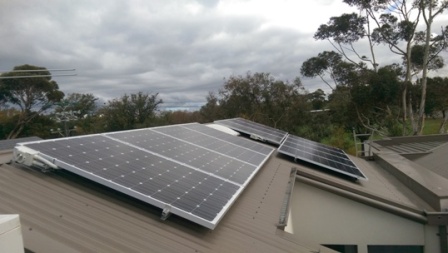 Sustainable Solar Services together with Sustainable Construction Services sets their target exactly in achieving the above. The effect of energy efficiency for the environment as well as the budget goes hand in hand. We will boast companies' profits and reduce costs for families by reducing the use and cost of energy as well as the costs for maintaining their properties and assets. We also increase the value of their buildings and maintain this increased value with long-lasting products. The reduction of repair and replacement costs is the last key to an energy and cost efficient approach.
At Sustainable Solar Services our approach to energy efficiency goes far beyond the energy efficiency of the installed product. We assess the whole process chain, from order placement via manufacturing, delivery and installation to service and maintenance. SSS focuses especially on highly efficient manufacturing processes and facilities, supply chain and after sales maintenance efforts.
With regards to manufacturing, SSS purchases from manufacturers with space-efficient, well utilised production facilities. At the same time these manufacturers have sophisticated, highly efficient manufacturing equipment and extremely efficient processes. This is also shown in the low prices that SSS can offer for the guaranteed best products in the market. Our supply chain management is very lean in order to reduce unnecessary transportation and storage, which further reduces the product costs.
Our consulting service is the next key to affordable energy efficiency. SSS will not try to sell you a particular product we manufacture. We are a broker, supplying the customer the best suited product for his application for the best possible price. Therefore, we have established a network of German as well as local and other manufacturers, taking lead times, pricing, quality requirements for your projects as well as other factors into account. Your long-term satisfaction is our business success.
During and after installation, SSS ensures that materials are recycled, so that these materials are placed back into a life cycle. This reduces the energy required to produce raw materials for new products by replacing a part of the raw materials with recycled materials.
Sustainable Solar Services provide means of improved sustainability to the point of zero emission buildings and neighbourhoods, collaborating with like-minded partners within the industry.
Overall, SSS operates on a low energy footprint. We ensure that our operations are lean and well planned to reduce wastage. We recycle waste created by our operations and reduce wastage by efficient planning, resulting in reduced travel, transportation, etc.
Please Contact Us to discuss our approach concerning energy efficiency in more detail.