Home and Commercial Solar Panel Installation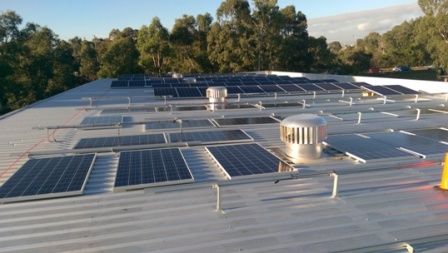 At SSS we believe that the quality of workmanship is crucial and therefore we do not cut any corners! We aim to provide solar panel installation services that leave behind nothing but what you ordered. Quality workmanship is the key to bringing a product to its full potential and ensures performance, efficiency, durability, sustainability and lifespan. Considering the fact we will be working on your roof it is of the most importance that the roof integrity is upheld and maintained. At the same time, we are conscious of your household or business operations and as our clients confirm, you will not be aware of our non-intrusive installation.
SSS is partnered with SCS which, as Registered Builders, has a great track record of high quality installations. SCS ensures integrity and safety of the roof and mounting structure for the solar installation. All solar panel installations are in strict accordance with Australian Standards and performed by Clean Energy Council approved solar specialised A-grade electricians. We have in-house solar engineers to manage and monitor the entire process. They perform quality checks throughout the installation ensuring smooth project implementation without surprises. You can be assured that your product will function properly from day 1 and that it will be problem free.
SSS only sources its panels and components from reliable Clean Energy Council approved brands. We have access to a range of the highest quality Tier 1 products to see that your requirements are completely satisfied.
F
Listen to the reasons why our customers say we are the best solar installation company going around Melbourne!
"We are happy to recommend Sustainable Solar services. In addition to designing a solar system to our needs, they gave us loads of assistance finding solutions to roof access, a cost effective maintenance schedule and a good rate on our finance package. We will soon be building a second factory building on our property and we have no hesitation in asking Sustainable Solar Services for input on a bigger solar system that will suit our future energy demands. 5 stars."
Andy / Commercial Solar Panels 33kW System in Melbourne, Victoria.
We provide you with free expert advice and help you choose a product that best meets your requirements. Ask about our special offerings for your home or commercial solar panel system. At the moment, due to our bulk orders we are able to offer our high quality components at better rates than many others.