Tesla Powerwall – will it be the battery storage system everyone is waiting for?
Installations of solar PV systems incorporating Tesla Powerwall battery storage commenced in Australia in January 2016. The case for battery storage continues to strengthen and there has been much interest and excitement over the price point of the Powerwall. The model currently available in Australia is the daily cycle version (designed to run through one cycle per day that completely discharges the battery) with a nameplate capacity of 7kWh and a 10 year warranty that is valid so long as the Powerwall is installed with a Tesla approved inverter. Tesla currently has two inverter distribution partners, SolarEdge and Fronius.
SolarEdge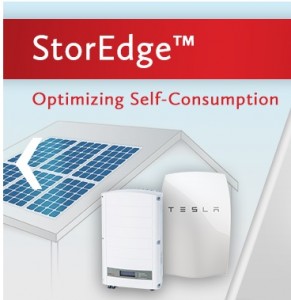 The SolarEdge inverter provides a single phase solution that requires the use of SolarEdge optimisers and the SolarEdge StorEdge component in a DC coupled configuration. The StorEdge is used to help charge the Powerwall. It also comes in a backup version (at additional cost) that has the added facility of allowing a PV system with battery storage to continue working in the case of a grid failure.
Fronius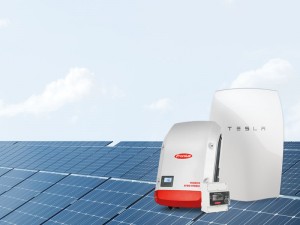 The Fronius Symo Hybrid inverter is a richly featured all in one solution that can be installed in either a DC or AC coupled configuration. It can also be configured to provide power during a grid outage. However, as of January 2016, this inverter can only be installed at sites with a three phase electricity supply. Furthermore, Fronius Australia has provided advice that the Symo Hybrid will require a software upgrade (available in the latter half of 2016) before it is compatible with the Powerwall.
Retrofit solution
This news is less than heartening for the over 1.4 million residential scale PV systems currently operational in Australia. The hype around the Powerwall has caused many owners of such systems to consider battery storage as an add-on and to 'hold out' for the time when the Tesla unit would become available in Australia.
As one would expect, the SolarEdge solution is only backward compatible with existing PV systems that use the SolarEdge inverter. Considering that the vast majority of installed systems do not fall into this category, this means that if such a system were to be retrofitted with the Powerwall, the only solution would involve replacing the existing inverter with a SolarEdge inverter and installing SolarEdge optimisers on all the PV panels. That would mean a hefty additional expense to the cost of the Powerwall unit itself.
The Fronius solution is much more flexible and can be added in an AC coupled configuration to an existing PV installation with minimal alteration. However, this is only available to sites with a three phase electricity supply.
SMA recently announced that it will be releasing a single phase battery inverter-charger that is compatible with the Tesla Powerwall. In a configuration similar to the Fronius, the product can be used only with SMA inverters in new or retrofit installations. It will become available in Australia sometime in 2016.
As of January 2016, that leaves most of the existing residential PV systems in Australia outside the purview of the Powerwall. It would seem that these installations will have to wait and hope that as with SMA, the list of Tesla approved PV inverters grows to include their own. No one at Tesla has given a timeframe for that.